Instant messaging (IM) has become a standard medium of communication for both young people and those in a professional working environment. With the prevalence of ads on the official IM clients of companies like Yahoo and AOL, people have started to turn to third-party clients for their IM needs.
Some of these third-parties charge for their clients, and while their programs are feature-rich, people don't have to pay to get a quality, ad-free IM client. That's because the open source community has been hard at work on developing IM clients for use on Windows and Linux desktops. One of the best – and oldest – IM clients is called Pidgin.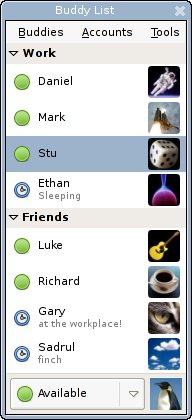 Formerly known as Gaim, Pidgin has been around for several years, and boasts a clean interface, no ads, multi-platform compatibility and multi-protocol functionality. It eliminates the need for multiple IM programs for different IM protocols, so you can talk to your Yahoo, AIM, IRC and Jabber buddies (along with many others) all through the same program at the same time.
Pidgin is currently in version 2.2, and boasts many advanced features that you'd expect to find only in programs that cost money. The logging functionality of Pidgin is one example, keeping track of not only every conversation you have, but of every time a buddy in your list logs on, logs off or changes their status. Other features include a plethora of plugins, the ability to detect when other users start typing an IM to you before you even get it and a very small memory usage.
Pidgin's usefulness is extraordinary, and cannot be overstated. For anyone who IMs, whether in a personal or corporate environment, Pidgin is the way to go. It's available for download at www.pidgin.im.