Pandora, an online music/radio streaming service that lets you personalize the Internet radio stations you listen to has just added a sharing toolbar to its service. And yes, you guess it right, this toolbar lets you share what music you are currently listening to with your Twitter and Facebook contacts and friends.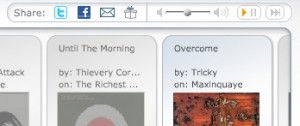 The new feature lets you post songs to Facebook which will allow your friends to listen to samples right in their news feed.  For Twitter, it works a little different as you can only post a shortened link to a page that features the song you are sharing.
Like any other third-party apps that connect with Facebook or Twitter, you will have to pass through some activation step before you can use the new Pandora feature. But after that, you can share music anytime with just a click of a share button.
In addition, the new feature now also lets you "gift" your friends with a new "radio station." This arrives at your friend's email like an electronic greeting card.