CDs and DVDs are an important feature on the utility belt of any computer enthusiast . Even with the rise of removable media like pen drives and external hard disks, everyone likes keep a collection of songs and videos on burned media.
In Windows, there are dozens of solutions, ranging from the popular Nero to the free CD BurnerXP. Linux users, on the other hand, had to deal with the lack of intuitive options for CD burning until some time ago. The tools available were powerful, but usually worked on the command line. The average user tends to fear it, so the rise of graphic environments like KDE and Gnome represented a big improvement.
K3b is an excellent choice if you're using Linux. It's amazingly easy to use, with an intuitive interface, similar to Nero's, with two explorer panels on top, and the project panels below. The standard options are adequate for the most common purposes; you're unlikely going to change anything besides the name of the volume, and the recorder speed. But if you want to, the program is powerful enough even for heavy users.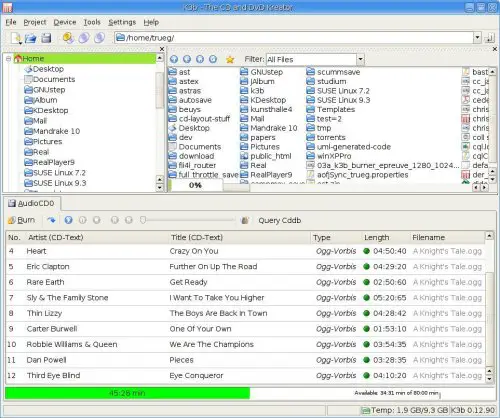 To create a project, just drag and drop any file you want to the project panel and it will be added. You can play music files to check if the songs are correct, convert songs to MP3 or Ogg (and many more) formats, create data CDs and DVDs, create and burn CD and DVD images, VCDs and SVCDs. You can even build an eMovix CD, which will boot on almost any computer and play your chosen songs or movie.
Truth is, K3b is a front-end to the more common choices on Linux, like cdrecord, cdrdao, mkisofs and cdparanoia. But a beautiful one, well structured and polished. It's ease of use and robustness make it worth of a try. Here is the download page.