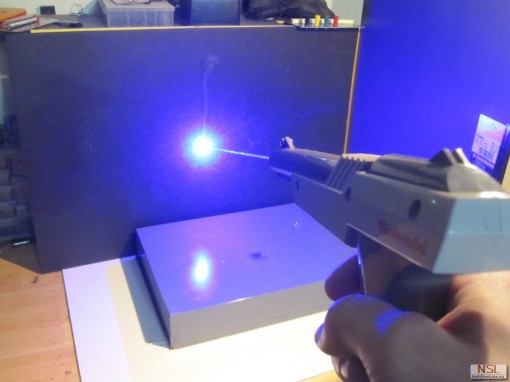 Remember the good old days of Duck Hunt on NES? Remember the Zapper? I didn't have an NES, but one of my childhood friends did, and I will never forget the occasions we went to his house to play. Those were definitely good times.
But what if you can use the Zapper for an entirely different purpose? Say you had a Nintendo Zapper Laser – one that works?
You know you want one!
Well, the guys at North Street Labs ((North Street Labs)) have taken it upon themselves to repurpose that device into something even more awesome: a Nintendo Zapper Laser.
North Street Labs is composed of Steve, Alex, and Justin, who describe themselves as a weird bunch – always have and always will be. For all their weirdness – or maybe because of it – they seem to have done pretty well in life, and with this latest creation, they are sure to get even more attention.
What they have done is "simple": they took an old Zapper, which I assume was just lying around in their bedroom and retrofitted it with a "ridiculously powered laser".
This is where the disclaimer comes in.
The information I am posting is aimed to be educational. I do not endorse illegal use of lasers, and I encourage that all proper safety equipment is used. Follow all local laws and ordinances before engaging in building or using these devices. I am not responsible for any illegal actions used as the result of this information. The responsibility is purely on you. Don't go blind, and don't go to jail doing something stupid!
Yes, boys and girls, lasers may be fun, but they can maim you. They are not to be taken lightly, especially if you have the urge to create your own Nintendo Zapper Laser!
If you have doubts as to its power, take a look at this video.
Now, if you have the time and skill to make your own Nintendo Zapper Laser, you can find instructions here. Create and use with caution.