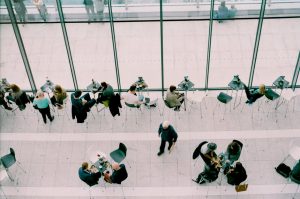 One of the best ways to generate sales qualified leads (SQL) is to host a conference. One of the worst ways to sell that idea to your non-marketing focused boss is to use terms like SQL. When speaking to non-marketers, avoid marketing jargon.
Eliminating specialized jargon is also good practice for marketing your products, services, and brand. People don't want to feel like they are being marketed to (targeted). They don't want to be treated like leads and prospects.
So if you want to increase customer engagement, never speak of customer engagement. Rather, utilize the technology at hand to reach potential customers, and find ways to keep them positively engaged. You are already halfway there by hosting a conference.
Everyone who takes the time to attend has some qualified interest and level of engagement with you already. Here's how to transform that potential into lead score busting MQLs:
Provide an Event App
Here is a thing you can know about every attendee at your conference: They are highly engaged with their smartphones. It is in their hands fulltime. Their eyes are on the screen most of the time. They are sending or receiving a message. They have an ambient newsfeed in the background. And they are actively using at least one, if not three apps.
Here's another thing you can know, if you have not provided them an app for your event, they are not using your app, nor are they fully engaged with your brand.
You can fix this by providing a conference app that allows attendees to keep up and communicate with one another. Depending on the app, they can also do other useful things like keep up with schedule changes, and follow the summaries of talks they were unable to attend.
In addition to user-facing features, a custom app can provide you with benefits such as the following:
Mobile Lead Scanning
Lead and Booth Staff Analytics
Brand and Content Management
There is nothing like a custom conference app to maximize the lead score of every attendee.
Up Your Social Media Game
If you still see Facebook as a way for college students to keep in touch, you need to turn over marketing duties to someone who was born within the last three decades. Every pixel of Facebook is devoted to marketing and customer engagement. If your company has not caught up to that reality, it is destined to be a bit player at best, if it is not there already.
There are numerous benefits of social media marketing. Improved customer insight may be the most important. Better search engine ranking is also vying for the honor of top benefit. Social media marketing is a little like word of mouth advertising, with the added benefit that you get to have a direct influence on the process.
It is not the ultimate answer to your marketing woes. Don't expect it to be a huge driver of traffic to your site. But you can expect it to be a major boost to your brand awareness and brand engagement. For the best way to drive more traffic to your site, look no further than SEO.
SEO: May the Odds Ever Be in Your Favor
When a person from your conference goes online for information about your industry, you don't want them to find your competitor's business. You want to be able to shift the odds ever so slightly in your favor.
That is SEO.
Search engine optimization increases your chances to be found in an organic search done by the user. You can read a primer on how to use SEO to drive traffic to a website. But the smarter money and use of your time is to hire an SEO consultant who can leverage their expertise. It is the best money you can spend from your marketing budget with the goal of increasing site traffic.
Holding a conference for other professionals in your industry is one of the best ways to produce high quality leads. But you are leaving money on the table if you do not provide an app, utilize social media, and maximize SEO.