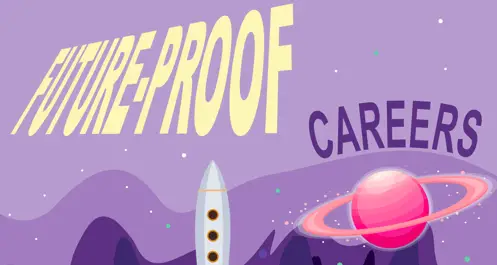 It's Friday, and what better way to welcome the weekend break with a little fun? At the end of the day, you probably have plans to chase away all the stress that the work week has brought with it, but why don't you start putting yourself in a fun mood right now?
You might be at work, and reading about jobs and careers might not be your best idea of fun at the moment. This infographic about "futureproof" careers will get you in a lighter mood, though. Trust me.
Created by Blucarrot, the infographic gathers data about jobs of the future that just might be what our kids (already born or yet to be born) will be doing. And if you're smart about it, you will do what you can right now to make sure that your progeny will have a solid career in the future – whether its in the sciences or not.
So what are these futureproof careers? The infographic tackles various sectors: the environment, education, medical, social services, advanced manufacturing, online design, online in general, travel, food, and business. Here are some of the more interesting futureproof careers that you might want to take a look at. Heck, if you are young enough, you might even want to start building a foundation that can set you up in the future!
Cloud controller – a person who works with clouds – the ones we see up in the sky – so that we can combat climate change
Zero-energy home builder – I am not sure about zero-energy but that should be possible in the future?
Student care workers – with the assumption that teachers will become machines, there apparently will be a need for human care workers to help students out. I am not convinced of this, actually.
Body parts creator – a futuristic scientist who works with genetic information and drug development to, well, create body parts.
Metal skin manufacturer – metal skin being self-healing metal for ships and the like.
3D-printing programmer – this is probably going to happen sooner than we think!
For more of these futureproof careers, take a look at this nicely designed infographic.