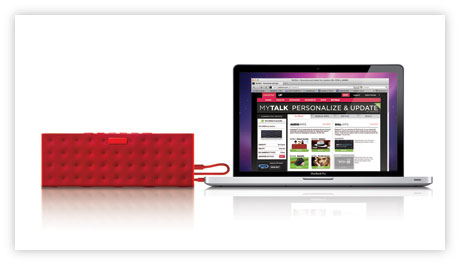 Portable
speakers
are always welcome, especially for those who like sharing their music with the group when on the go. To be sure, there is no lack of portable speakers in the market, but the issue is the quality of sound that they produce.
Enter Jawbone, the company that has made a name for itself with JAMBOX, a portable speaker that has wireless capabilities PLUS a rich sound.
To be honest, I have not tried out a JAMBOX myself, but from what I have been reading, it does a pretty good job for a portable speaker. You can hold one with a single hand and still get hi-fi audio, so it seems. With the success of the JAMBOX, Jawbone has decided to go one step further and announce a larger version: the BIG JAMBOX.
The BIG JAMBOX promises to deliver as good a sound as its little sibling, maybe even better. The cool thing about the BIG JAMBOX is that it is compatible with most devices that are Bluetooth-enabled. Think iPad, iPhone, iPod Touch, and many Android phones. Of course, devices using the standard audio jack also works with the speaker.
The BIG JAMBOX comes in three colors: Graphite Hex, White Wave, and Red Dot. It measures in at 10.1 inches long, 3.2 inches wide, and 3.7 inches high. As for the weight, it is a nice 2.7 lbs. Not too heavy for considering the (supposedly) awesome sound it delivers.
I would like to get my hands on this baby, but it is only available on a preorder basis at the moment. Oh, and it does come at a price – $299.99. If you are in the market for a portable speaker, though, this might be a good option.