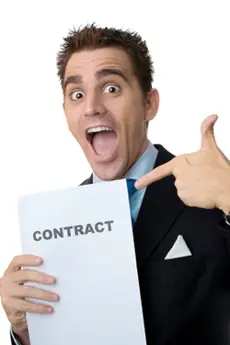 Want to get more online traction for your business or product? Then stop sending out cookie cutter e-mails with pathetic pleas for other website owners to mention you, your product, or your business. That approach to marketing is like a door-to-door salesman barging into your house without introduction or invitation.
As someone who owns several websites myself, I'm totally open to engaging in online conversations with you if you approach me in an intelligent, non-sales-like manner. But send me a doofus e-mail that makes it obvious you don't know a thing about me or my business and you'll be flushed down the drain quicker than you can say "glug glug."
Online marketing is a multi-pronged beast. Yes, you should write articles, explore pay-per-click (PPC), get yourself interviewed, do podcasts, maintain an up-to-date blog, AND start building relationships. If you've been around the Internet more than 5 minutes, you'll know from your own experience that a newcomer to any forum or blog who does nothing but push their own product is either ignored, or his posts are deleted. That's because he has nothing of value to bring to the community. (Kinda like the family who shows up at the potluck without a dish to share.)
I worked with a horror novelist last year whose (successful) marketing efforts were focused totally on building his MySpace relationships. He sought out other MySpace users that were in his niche, or in some way related to his characters; then he simply introduced himself and started a dialog. A year later his books are flying off the virtual shelf because he took the time to build relationships.
Okay, I can already hear you saying "but I'm not an author, I'm marketing refurbished iPods!" Doesn't matter. Relationships are relationships.
How to get started:
Find the virtual community where your target audience hangs out, and take the time to "build your house." Engage in conversation, invite the neighbors over for dinner–meaning add interesting posts or comments about other people in the community whose work you admire, or whose comments are witty, or who wrote a brilliant tip. Offer up valuable information without being asked, and make sure what you write really IS valuable and not some rehashed crap that has "SALES" written all over it.
Stumped for how to start the online conversation? Just think about life outside the Internet and the people and businesses YOU respond to.
For example, if you're out buying a flat screen TV, you'll ignore the salesman who follows you all around the store and won't leave you alone. Odds are, though, you'll enjoy talking to the sales guy who takes the time to engage you in a conversation about your needs, the gear required for hook-up, and where you can get cheap video downloads.
Be real. After all, it's all about relationships.