The most common dilemma for iPhone and iPad users is how to download torrents on iOS. Not being able to download torrents is one of the biggest drawbacks to owning an iOS device. In this age of remote connectivity, torrents are the best way to share, download, and upload large-sized data files via the internet. It is practical, reliable, and fast.
A few years back Apple banned all torrent clients on their devices. Since then, it has been unclear if the ban has been lifted or not. The easiest, but not exactly the best, way to download a torrent to an iOS device is thru jailbreak. But, this is the least advisable option. Fortunately, torrenting is not entirely impossible for iOS users, there are still ways to download torrents on iOS.
How to download torrents for iOS?
There are many ways to download torrents for iOS. Here are some safe methods:
STEP 1: Visit your go-to torrent sites
There are a lot of legitimate torrent sites on the internet, and they are easy to find! Research the best legal torrent sites before choosing where to download. Once you have found or chosen your "go-to" torrent site, you can now enjoy downloading files through torrents.  Public domain torrents is a good website to try.
SIDE NOTE: For a lot of torrent users on iOS, they prefer using Google Chrome as a browser to Safari since the latter automatically starts to stream after downloads. Either way works, depending on your preference.
OPTIONAL METHOD: Use a VPN to bypass torrent blocking
We do not encourage maliciously downloading torrents. But using a VPN (that helps mask your IP address from the ISP provider) is beneficial for your device. Why? Well, if you are an avid downloader and your ISP provider finds out, they might start throttling your connection speeds and flag you down for malicious download volume. And, honestly, nobody wants that.
STEP 2: Copy the download link
This is where downloading a torrent becomes different and difficult for iOS users. Usually, we simply click "Download this Torrent" from our go-to sites, and a (.torrent) file will be loaded into our folders. This torrent (.torrent) file will then be used by the client (BitTorrent, uTorrent, etc) to download the file from the peer-to-peer network to our computers.
The problem is iOS bans downloading these (.torrent) files onto your device. Also, torrent clients (uTorrent, BitTorrent) are all banned for installation on any iOS device (non-jailbroken). So, we are taking an entirely different approach. You can simply use the magnet link available for your chosen torrent file. Or you can copy the download link. Long press the download button and select "Copy Link Address".
STEP 3: Paste the copied link to a torrent client for iOS (of your choice)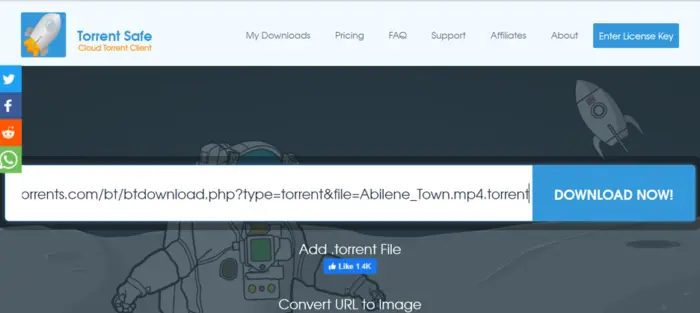 Go to your preferred torrent client for iOS, paste the magnet link to the search bar, and press the download button. Now, your files are going to be loaded onto your device's folders.
Best torrent clients and torrent downloaders for iOS
For all iOS users, the best option is to use a cloud-based torrent client or downloader. This allows for downloading files without having to install torrent clients onto your device. Usually, these clients offer free services, especially for files below 1GB. However, if you are planning to download heavier files, you might need to pay for premium services. Check out these torrent clients for iOS:
What should you look for in a torrent client for iOS?
Completely safe and legal. Using torrents is the fastest way to share files on the internet.  HOWEVER, the problem comes in as torrenting makes it easier to share copyrighted material. In this case, torrenting becomes illegal. Looking at the bright side, there are legitimate torrent sites that share music, art, and movies legally (and free).
No jailbreak is required. It is never a good idea to tamper with your device's security and encryption systems.
Also read: The Best Budget Gaming Laptops 2022 Edition