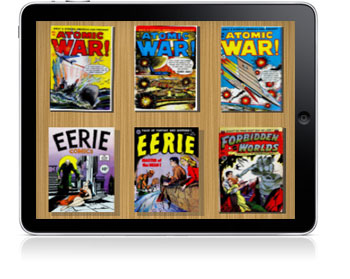 Hardcore graphic novel lovers just might be shaking their heads. I know a number of people who will not even consider reading their graphic novels in digital format, and I totally respect that. However, there are also people who get quite excited about the idea of graphic novels being available in digital format.
With the prevalence of e-book readers (e-book reader wars, remember?), it is not a surprise that graphic novels are soon going to be staple content. This is actually not a new idea since there are graphic novels that have been converted to digital format. Two groups are looking to change that now.
Cognito Comics and Tall Chair, two start ups based in San Francisco are working on creating comics specially designed for the iPad. The New York Times recently covered this development, and shared how David Burwen (Executive Producer of Cognito) showed his graphic novel Operation Ajax. This is based on the nonfiction book All the Shah's Men: An American Coup and the Roots of Middle East Terror by Stephen Kinzer.
Their verdict?
"Animated transitions give the comic a cinematic feel, and also give the artist more control over how the page unfolds. The format provides an opportunity to make supplementary material such as photos and documents available within the relevant comics panel.

It's different from anything I've seen in digital comics. Technologies like ComiXology's "guided view" create a smooth experience by moving the reader from panel to panel, but you're still reading your basic, old-fashioned comics page."
I believe that this will introduce a new age in graphic novels. Pretty soon, I think we will be seeing more titles available for download.