The Google Latlong Blog has just announced the updated version of  its Google Earth for iPhone app.  In case you haven't noticed, Google Earth for iPhone is now the second most downloaded free app at the iTunes App Store.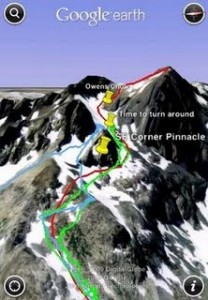 Version 2.0 of  Google Earth for iPhone has some interesting new features:
Viewing your created maps whereever you go – Google Earth now syncs with your Google Maps account on your desktop computer. So when you save a map from your computer you can immediate see the map the next time you fire up Google Earth for  iPhone.
Easier browsing of businesses, photos and places – Tap on icon and a small glow will appear under your fingers to tell you which icon you have picked.  Toucing more than one icons will bring you to a list of icons used by the app.
18 Languages added – This brings the languages supported by Google Earth for iPhone to 31.
The new version of Google Earth for iPhone will be available worldwide in the next couple of hours.  I'm currently waiting for it to appear on my iTunes Apps Store configuration so that I can test it out right away. Have you downloaded the app? How was it?