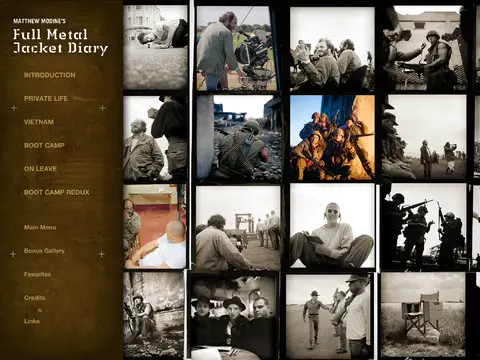 Full Metal Jacket
is one of the iconic movies of its time, and movie buffs will tell you that if you have not seen it yet, you simply ought to stop what you are doing right now and watch it. It's Monday morning anyway. You probably won't get much work done! ((Disclaimer: I have only seen it in bits and pieces myself.))
If you appreciate the movie as most people who have seen it, then you will love the new iPad app that Matthew Modine has released. The star of Stanley Kubrick's 1987 film decided to release the app, dubbed Full Metal Jacket Diary, because of the amount of material he had collected while keeping an actual diary as they filmed the movie.

In his own words: "In 1985, Stanley Kubrick encouraged me to take photos and keep a journal while playing the lead role of Pvt. Joker on the set of FULL METAL JACKET. In 2005, I published a limited edition book of my photos and diary. This app is based on that book; enriched and reimagined as an interactive, audiovisual experience. I hope you enjoy it!"
The Full Metal Jacket app features the actor's thoughts as he originally penned them while filming, which is actually the content of Modine's metal-bound book – unfortunately out-of-print now. Of course, with the possibilities that the iPad provides, the Full Metal Jacket app offers a more immersive experience.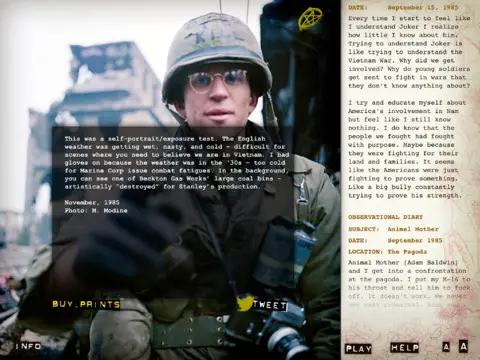 Here are the full features of the Full Metal Jacket Diary app.
– Modine's complete diary text from his out-of-print, award-winning, metal-bound book, FULL METAL JACKET DIARY
– 5 chapters chronicling the filmmaking process – Private Life, Vietnam, Boot Camp, On Leave, and Boot Camp Redux
– A nearly 4 hour audiobook with Modine's absorbing narration, produced with immersive sound effects and original music
– Over 400 high-res photos and personal documents scanned from original negatives and source material
– Detailed information on photos including dates, locations, and all-new remembrances written by Modine
– Three bonus galleries featuring select photo restoration comparisons
– Interactive "favorites" gallery designed to simulate Matthew's original contact sheets used in compiling his book
– Store your favorite photos and audio clips for later
– Select your favorite photos and tweet your friends!
– "What Was Stanley Like?" – A one-minute fully animated video featuring Modine's narration and photographs
– Handwritten on-screen "help" – get help from Matthew at any time while reading or listening to his diary
– Links to related articles, videos, content, and much more!
– Compatible with iPad 1 and 2, and optimized for the new iPad with HD Retina display
For $14.99, you can enjoy all the behind-the-scenes action you can ever want!