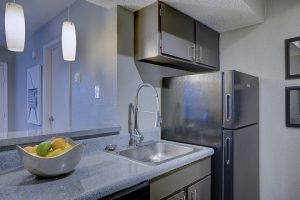 Spring and summer come with even more bug issues than the rest of the year. Many of the bugs that hibernate during the winter make their appearance again the moment it starts to get warm out. Even one warm day in between a few cold ones can have the ants crawling around your home, though sluggishly.
If you have bug issues in your home, or you just have an issue with bugs in general and don't want them in your home, there are things you can do to keep them out. Bugs are often inevitable, but you don't have to let them take up permanent residence. Here are some tips for dealing with insects of all kinds.
Bugs In Carpets And Clothing
From carpet weevils to carpet moths, bugs like to live in and feed on materials of all kinds. While you'll normally find clothing eating moths in an attic full of musty old clothing if you live in an older home they can initially be attracted by more than just your clothes and still end up eating holes in your favorite wardrobe pieces. Your best bet is to buy some moth killer or call in an exterminator.
For clothing that is in storage, some old wives tales say to pack them with a dryer sheet or even a bay leaf to keep the bugs out. You could also use moth balls, but they are kind of stinky.
Creepy Crawlies
There are all kinds of bugs crawling around your home, some of them you see and some of them you might be missing. If you don't ever dust your home you might have some dust mites hiding out. Dusting regularly not only keeps them at bay but can also help keep allergies at bay.
Spiders may be the creepiest of the crawlers to many people. While most spiders are harmless and mind their own business, you may live in an area with Black Widow spiders or the Brown Recluse. These spiders have a dangerous bite, so it helps to know what they look like. One vote on the side of spiders; they eat other bugs so having them in your home could be keeping down the amount of flying insects inhabiting your home.
Bugs That Bite Or Sting Too Much
Then you have the nasty bugs, sometimes spiders, that bite and sting. Carpenter ants are known to bite, and when you have a colony of them in your home it's best to have the pros come in. Another real biter that requires a professional's touch to get rid of are bed bugs (they'll just come back again if you try to do this on your own).
Spring and summer bring about the bees, wasps, and mosquitoes as well. Keep doors shut and keep window screens patched and that will help keep those creepy flyers out of your home and out of your skin.