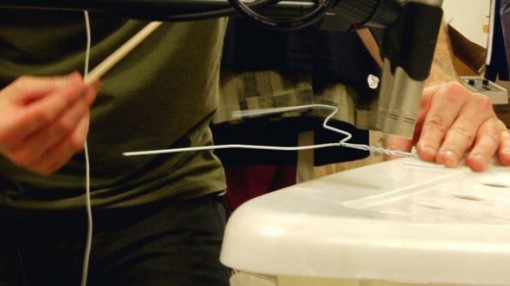 One of the best lines I have heard from a song is "
music is my aeroplane
". No doubt you also know what that song is, and I don't know about you, but I think that line is just brilliant. The importance of
music
in life cannot be emphasized enough, and I can't help feeling sorry for those who cannot appreciate it.
In any case, we all have our tastes in music, and one cannot – and should not – judge others because of this. And whatever kind of music may get you going, I think that you will appreciate what sound artist and composer Diego Stocco has created: dry cleaner music.
Dry cleaner music is not a euphemism or a code for something exotic. It is what it says on the tin: music created from the sounds that one can hear at the dry cleaner. As the sound artist himself says:
"I used a puff iron, press and dry cleaning machines, a washer, clothes hangers, and a bucket full of soap. The bass and lead sounds were created from the buzzing tones coming from the conduits and engines. There are no additional sounds from any traditional or electronic instruments."
Now to be honest, I have no idea what a puff iron is – at least before I discovered Stocco's dry cleaner music.
Aren't you just curious what this dry cleaner music is all about?
Diego Stocco – Music From A Dry Cleaner from Diego Stocco on Vimeo.
It may not be something that will be on my daily playlist, but it is definitely worth exploring. What do you think?
Via Humans Invent