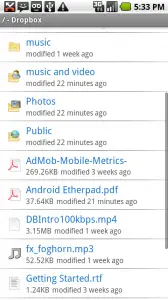 Among the cloud storage services I've tried, I stuck with Dropbox for its superb storage solution. I used Dropbox to synchronize my files from my online, desktop and iPhone applications and pretty soon I might get another interface – for my Android-powered Google Nexus One phone.
Yes, you read it right. If you have a Dropbox account, you will soon be able to access your files from your Android phone as Dropbox is about to launch its new Android app pretty soon. And will the upcoming Dropbox app for Android offer us Android phone owners?
The new Dropbox iPhone app will let you:
Access your Dropbox on the go – view all the contents of your Dropbox account, including music and movie streaming right on your Android phone.
Make edits to your files and sync them back to Dropbox – Changes you make to your files using the Android app will be automatically synced to your Dropbox account/
Download files for offline viewing – Have all your files accessible anytime, anywhere by adding them to your "Favorites.'
Upload files and sync them to your Dropbox – Use your Android phone's powerful camera to take snapshots, shoot video and then upload them from your Android phones to your Dropbox account to make them accessible. You can also send an email containing the links to your files to your friends quickly and easily.
Share links to files in your Dropbox –  That practically include any  files in your computer.
No words yet on the exact date that this Android app will be available, although the Dropbox blog mentioned something like in the next few months.