When was the last time you've visited blog aggregator – Technorati? Well, it looks like the site has suddenly stopped indexing blogs. If you check it right now, the last times its index was update 4 or 5 days ago. Did we miss on any announcement about this? Is Technorati closing down, or just having a grand vacation?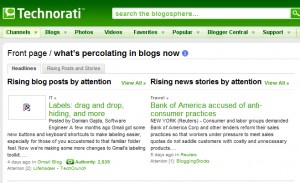 This was noted by CenterNetworks when it was brought to their attention that Technorati seems to be having an extended vacation. A tipster informed the site that the latest entry in PopURLs, an aggregator of blog aggregators, was showing updates of five days ago.
I checked the Official Technorati Blog to verify whether there was any announcement about this. But the last post on the blog was made last June 12. According to the post:
It's been a tumultuous month. For us – and unfortunately for you.
We're sorry for the frustration and the less than great service. While not an excuse, here is the reason:

We changed co-location facilities. We, well the four members of our ops team, moved 1,000 servers and ALL of our real-time search infrastructure. Things are now returning to normal, although slower than we would have liked.

Looking forward:
We haven't lost any data – so when things are back to normal your link counts and authority will be exactly where they should be.

We'll follow up in more detail so you have information on exactly which services have been affected and how, and when they'll be completely functional again.
So, this probably explains while Technorati has not updated its main site to reflect new blog posts/articles yet.  But then, the post was made on June 12, and the updating stopped around 4-5 days ago. So, what's taking Technorati so long to fix the problem?
Were you affected by Technorati? Does the lack of indexing updates bother you at all?
Originally posted on July 6, 2009 @ 3:10 pm