What else could probably come as an iPhone application? It's a gaming platform, an e-book reader, a flashlight, a virtual beer, and now the iPhone has just become a free dictionary as well with the release of Dictionary.com's iPhone app.  So , now you have a handy dictionary minus the bulky form of a pocket dictionary that we use to know.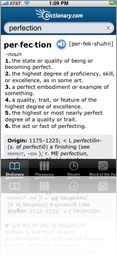 The Dictionary.com iPhone app is currently available as a free app at the iTunes store. It offers almost the same content as the web-based version including content from Dictionary.com and Thesaurus.com.
Specifically this iPhone app features:
more than 275,000 definitions and 80,000 synonyms
similarly spelled words


Word of the Day

Alphabetical indexing

Spelling and audio pronunciation

Example sentences

Non-standard uses

Word origin and history
But of course, the best feature of this iPhone apps is its offline access. So, you practically have a dictionary with you anywhere you go, even if your iPhone is not online.
The Dictionary.com iPhone app may not be the first and only dictionary application available for the iPhone, but it is certainly the most comprehensive online dictionary today.
It's a free app, so if you find yourself needing a dictionary from time to time, it would be a great addition to your iPhone apps. You may download the Dictionary.com iPhone app here (iTunes App Store link)
Originally posted on April 8, 2009 @ 1:41 pm