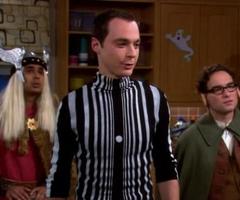 Remember the Doppler Effect? If it doesn't ring a bell (which would rather be surprising, actually), try googling it. Alternatively, take a closer look at
Sheldon Cooper
's Halloween costume, and your memory just might get jogged.
Seriously, though, the Doppler Effect refers to the phenomenon that is observed when the source of a sound (or any other wave) is moving with respect to an object. That object could be you. The result is a perceived change in the intensity of the sound as the source keeps on moving.
There are many applications of the Doppler Effect, and one of the newest applications which may be of particular interest to you guys is gesture control for computers.
A research team, composed of people from Microsoft and the University of Washington, has developed a system wherein the user can use hand gestures to initiate simple commands instead of using a mouse. For example, move your hand a certain way, and you can imitate the clicking of a mouse button. The cool thing about the system is that it does not require special hardware. With your usual microphone and speakers, and the Doppler Effect, of course, you can have fun waving your hands around.
Here's something that is even more fun: the team was able to use the Doppler Effect system to play Tetris without touching the keyboard or mouse! Not exactly a "Look ma, no hands!" moment, but you know what I mean!
For now, the set of commands that can be used effectively with the system is rather limited. However, it will not be surprising to see this technology develop and actually be used in everyday computing, don't you think?
Via PhysOrg
Image via SheldonCooper.org