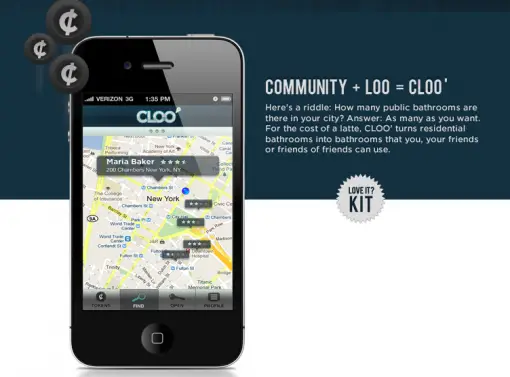 I don't know about you, but I have this obsession with toilets. I do know that when you have to go, you have to go. But there is still something about public toilets that makes you NOT want to even step inside one. Especially in countries which are developing (or underdeveloped or third world, depending on how politically correct you are).
If you feel the same way about the comfort room (understand it or not, that's how it is called in my neck of the woods), then you just might understand what was going on in the minds of the guys who created this new app called CLOO'.
As you can see from the title, it's a mashup of "community" and "loo", and it doesn't take a rocket scientist to figure out the idea, does it? I love the copy on their About Page:
"CLOO' is based on one simple truth— we all have to pee. Though in urban cities finding a clean, available restroom is difficult & frustrating. That's where CLOO' comes in.
CLOO' is a community of registered users who choose to share their bathrooms and make city-living easier, while earning a small profit. Using social media connections, CLOO' shows what friends you have in common with the host, turning a stranger's loo into a friend of a friend's loo."
While I did say I love the copy, it doesn't mean that I can totally wrap my head around the concept. I guess it does make some sense from the perspective of the one who desperately needs a clean bathroom. Then again, how sure are you about the hygiene of the person offering their private toilet to total strangers? And how sure are you that you are going to be okay in there. (Yeah, I might be a little paranoid, but still!)
On your part, how safe do you feel leasing a private room to total strangers? I guess it is not much different from renting out rooms, but I personally don't feel comfortable with the idea. But hey, I am only one voice. Would you go on CLOO'?
Learn more about it on the CLOO' web site.