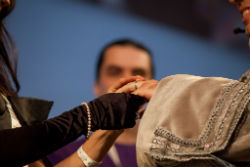 Remember
Kopimism
, the first religion in the world which bases its tenets on
file-sharing
? Kopimism was officially recognized as a religion by the government of Sweden earlier this year, when they were about 3,000-member strong. Their main principle:
Information is holy and copying is a sacrament. Information holds a value, in itself and in what it contains, and the value multiplies through copying.
I honestly didn't think I would hear much more about the new religion. However, it seems that they are not going anywhere just yet. If anything, the Church of Kopimism might just be at the beginning of spreading its wings. Believe it or not, they just held the first Kopimism wedding!
Below is the video of the first wedding that the church conducted. It was between an Italian man and a Romanian woman. And, as unclear as it may seem to me right now, a Kopimist wedding is also bound by the similar rules they apply to sharing. Exactly what sharing love in this kind of marriage is, I am not sure. But watch the joyful and historical union below.
What do you think of Kopimism? Would you be tempted to join their ranks?
Via Torrent Freak