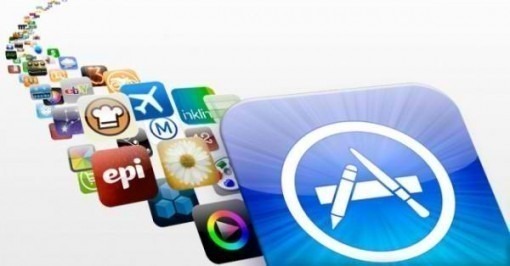 Craving for some juicy celebrity gossip? Shelling out too much of money on those Hollywood gossip magazines in order to appeal your guilty pleasure? Thanks to technology, you can now lay your hands on some ultimate celebrity gossip apps available in market, if you're looking to keep up with your favorite celebrities and follow anything and everything that they do.
Listed below are four interesting pop culture apps that will keep you updated on all those juicy tidbits happening in Hollywood.
E! Online (Available on Android and iOS)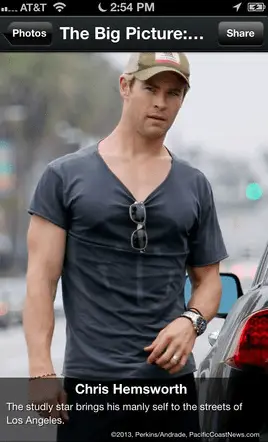 If you are a big time sucker for breaking news, photos, and videos related to entertainment, E! Online is one cracking app that you've definitely got to download onto your smart phone. Arguably one of the best free apps on celebrity news and gossip for Android and iOS users, E! Online gives you all that juicy gossip you've been craving for. Right from latest celebrity news headlines, to celebrity break-ups, to latest celebrity parties, photos, award show highlights, to TV recaps and spoilers, to movie reviews, and blogs from E! Writers, this app is pretty much a power house packed with all the possible celebrity gossip you're looking for.
TMZ (Available on Android, Windows, and iOS)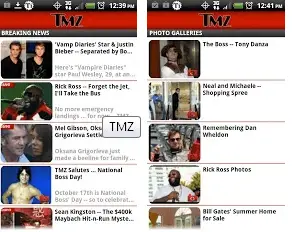 Want all of Hollywood's breaking news in your pocket? Want to follow the latest, craziest, and goofiest things happening in Hollywood? Easily one of the biggest and popular apps on celebrity gossip and news, TMZ brings to you all the juicy Hollywood action in the form of videos, high quality images, and news articles.
You will not face even a single second of boredom, as you flip your way through a plethora of shocking events, Hollywood scandals, crazy headlines, and Hollywood rumors as they happen. Besides, the app also has a TMZ TV section that lets you stream TMZ TV clips! No matter where you might be, this fantastic free app for Android and iOS users, gives you access to the latest and juiciest news on all your favorite household names.
Gossip Junkie (Available on iOS)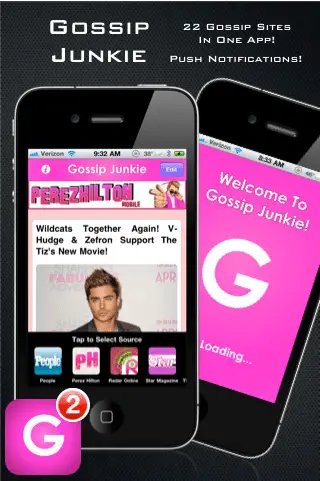 Tired of hopping from one gossip website to another to figure out what your favorite celebrities have been up to? Sick of trolling a dozen blogs to follow all that celebrity gossip you've been dying to know about? Well, there is a solution to that, and it's called Gossip Junkie!
Yes, this convenient app aggregates several gossip blogs and a number of celebrity gossip websites such as Celebuzz, E! Online, Perez Hilton, Page Six, and so on. So basically, this app gives you a handy collection of the very best in the world of celebrity gossip. Furthermore, the app even supports push notifications, making it all the more easy for you to remain updated all the time!
Wonderwall (Available on iOS)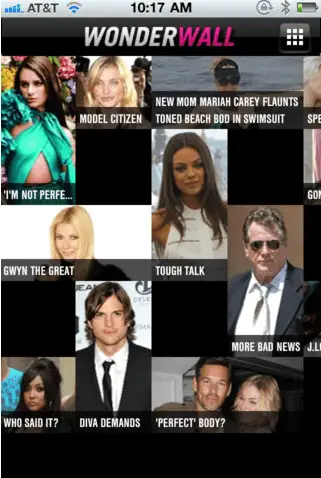 Want to know which of your favorite celebrities got hitched? Want to treat yourself to some guilty pleasure by knowing about famous celeb splits and break-up? If yes, it's time to install Wonderwall onto your smartphone!
Yet another fantastic app when it comes to celebrity gossip, Wonderwall offers you a plethora of celebrity juice, photos, breaking news, interviews, and much more. Apart from that, the app also offers celeb love advice, features on celebrity fashion, original interviews and so on. All in all, Wonderwall is an ideal app for everything that is celebrity.
If you want to view even more celebrity news and images, check out our sister site, Celebrific.
This article was written by Jenny Wadlow, a freelance blogger. Her niche is fashion and entertainment. She is a regular writer for the reality show Behind the Talent. For more fashion updates and juicy celebrity gossips, follow her @JennyWadlow.
Lead pic via idownloadblog