Do you think you type faster than the average person? Now you can test it out. 10-Fast-Fingers Speedtest is a simple web tool that tests how fast you type. You will be presented with some words and a form to type them. The objective is to type as many correct words as possible within 60 seconds.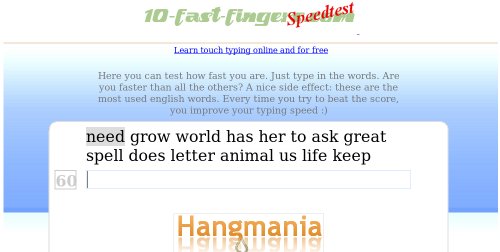 My record so far is 359 points, which translates into 476 characters per minute. It is not bad, but I am a two-fingers typist, and I am pretty sure I could improve that rate if I learned to touch type (where you use all the fingers).
Apparently the goal of the creators of this tool was to promote their touch typing online course in fact. They have some interactive lessons and tests that are supposed to get you started with touch typing. I am going through it right now, so I will keep you guys updated if my typing speed increases.