Version 1.0 of the much anticipated Flock browser was finally released earlier this month following more than two years of development. The release was met with much fanfare, but despite the amount of time and energy put into Flock, at this point it remains little more than a piece of eye candy.
Flock is a very good browser, being that it is basically Firefox in a shinier skin. But it falls somewhat short in the other areas of functionality it boasts.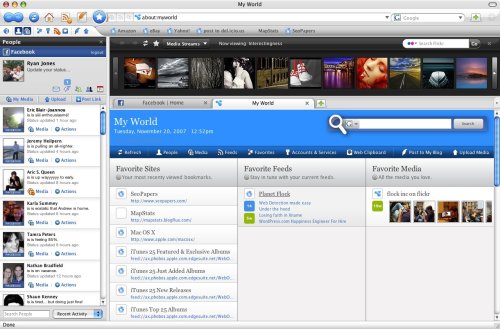 Flock's blog editor, for instance, is woefully less powerful than the alternative browser-based tool Scribefire, and light years behind corresponding desktop tools like MarsEdit, Ecto and the newly-popular Windows Live Writer.
Similarly, Flock's built-in RSS feed reader is polished and easy to use, but currently can't hold a candle to the likes of NetNewswire, FeedDemon and Newsfire.
The bits of Flock that shine the brightest are the Facebook sidebar and the browser's integration with online photo storing sites Flickr and Photobucket.
However, despite the Facebook sidebar's impressive functionality, it still pales somewhat in comparison to simply leaving Facebook open in one of your browser tabs. And while the photo uploading and sharing tools are likewise well implemented, the millions who turn to Kodak, Google and various smaller providers for their online photo storing needs have been left out in the cold.
Some will argue that while Flock may not be the best of breed at any of the individual functions it performs, it does provide the benefit of being able to do all those things from within a single application. But at a time when many new computers are offered with at least 1GB of RAM, and additional memory can be purchased dirt cheap, is it really a problem to have a separate blog editor, feed reader and Internet browser open at the same time? Surely the added functionality of the more feature-rich individual applications trumps eliminating the need to switch windows, a task that the ctrl+tab (cmd+tab on Macs) keystroke makes negligible.
There are purists who insist that an Internet browser is for browsing only, and should not be made to accomplish tasks it was not originally intended for. At present I am inclined to side with those purists (using Safari with no add-ons is a blazingly fast and pleasant browsing experience), though I do hold out hope that Flock, or someone else, will eventually manage to create a browser/blog editor/feed reader that is better than the respective standalone applications without consuming the bulk of a computer's available memory.
Flock is a positive step in what could be "the right direction," but after two years of development some hoped for a little more solid functionality to go along with the spit-shined exterior.