Nerds are not exactly known for being fashionable, are they? Then again, thinking about the recent trend featuring geeky t-shirts and all the merchandise that the Nerd Herd is selling, that statement may not be 100 per cent accurate. Still, fashionistas and nerds do not normally "go together" – I think we can all agree on that.
If there is one company that can break the boundaries, though, I think it is Google; and I think that most of you will agree. This is exactly what the Internet giant is doing with one of its newest projects: Boutiques.com. From the Official Google Blog:
"…a personalized shopping experience that lets you find and discover fashion goods, by creating your own curated boutique or through a collection of boutiques curated by taste-makers—celebrities, stylists, designers and fashion bloggers. Boutiques uses computer vision and machine learning technology to visually analyze your taste and match it to items you would like."
It's really a shopaholic's dream come true. Take a look at the image below to give you an idea how you can search for items on the site. Search is Google's main strength, and hey, they are putting it to good use with online shopping!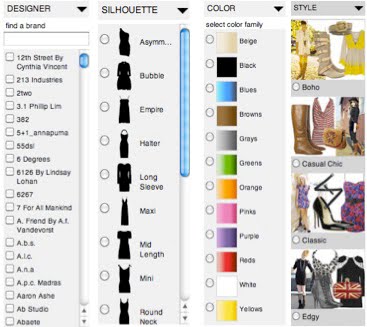 Filters, photos, visual searches, and iPad applications – this is where the Google brains come into the pictures. Some of the people who work there may not exactly care what they wear to work, but they surely can come up with one heck of a site that might very well change the face of online shopping.
With only a little over a month left before Christmas, you will certainly have a blast playing around at Boutiques.com!