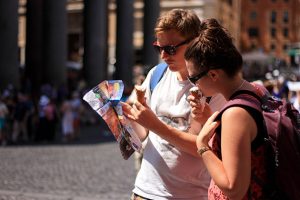 Many of us dream of leaving our jobs and responsibilities behind for a few months, getting the first airplane ticket we can find, and disappearing to the open roads of Europe with nothing but a backpack. An adventure through the old world of our ancestors can be one of the most culturally enriching experiences you can have.
Europe is rich with beautiful sights and sounds that simply don't exist back at home You can watch the sunrise in Tuscany, hop on an hour and a half flight, and have a croissant under the Eiffel tower. The luxury of having such vast cultural variety so close to each other is truly special.
Taking nothing but a backpack to this magical portion of the world is something that you should absolutely do at some point in your life. Follow these simple tips, and ensure you make the most out of your experience.
Set a Budget
Decide before you go exactly how much you can spend on the trip and budget accordingly. Ideally, you will be using money that you've put in savings rather than putting everything on a credit card.
Since you won't be working for the amount of time that you are on your vacation, it's smart not to rack up a large amount of debt that you may have trouble paying back anytime soon.
Buy a High-Quality Backpack
Your backpack is going to be your portable house that you carry on your shoulders for the next few months. It's going to be thrown under airplanes. Rained on. Shoved under bus seats. Spilled on. You're going to be carrying it for hours at a time. Make it a good one!
Find a backpack that clips at the hips and evenly disperses the weight throughout your body. Search for a neutral color so that you don't show up like a red flag blatantly announcing that you're a tourist. Obviously, you'll look like a tourist somewhat, since most locals don't walk around with a huge backpack on, but at least you will avoid being quite so obvious.
Make Friends
Don't be shy to make friends along the way. Start conversations with fellow travelers and listen to their ideas about where they are going next. You never know when someone could spontaneously ask you to go on a mini trip which could be the adventure of a lifetime.
Stay flexible and open-minded to adventure! The best thing you can do for your trip is, always be open to the possibility of the plan changing as long as it falls within your budget. You never know who you'll meet or what amazing thing could happen to you when you are open to excitement and adventure!