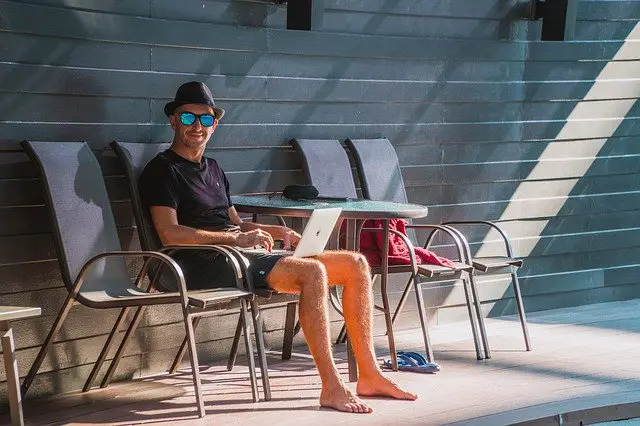 If there's one thing the pandemic did that was good, it forced companies to allow employees to work from home. Businesses that would never have considered remote work opportunities were forced to if they wanted their employees to work and their business to thrive. This caused a series of events that no one could have predicted.
Many staff members moved out of the area of their work thinking that they would be able to continue working remotely even long after the pandemic was done. What happened in the process was that a new generation of digital nomads was born. People got a taste for life without commutes where home and family and work are all rolled into one. And for those who loved it, they want to keep doing it. Now that the world is opening back up, these new remote workers want to explore other parts of the world while they work as well. Before you go running off to Cabo with your laptop, here's what you should ask yourself before you go.
Does Your Work Expect You To Come To The Office?
While some jobs are truly fully remote, others are still tied to a physical location that they are expected to return to at least sometimes. It's important to get communication from your employer to find out their long-term expectations of your remote work environment. If they never want to see you in person again and they are good with telecalls and video conferencing, then you may be a good candidate for the digital nomad lifestyle.
Can You Leave Your Residence?
Perhaps you're renting, but your lease isn't up for several months. Maybe you own your home, but you haven't decided if you want to sell or become a landlord. There are countless scenarios you could be in. The most concerning of course is if you need to figure out how to get out of an apartment lease. Unless you want to keep paying rent while you aren't living there. Make preparations to either sell your home or turn it into a rental unit. Some people prefer turning it into a short-term rental place like an AirBnB because there is greater income potential and you can leave all your furniture in the home.
Why Do You Want To Be A Digital Nomad?
Maybe you're tired of only getting a trip once a year for a week or two. Maybe there are places you've never been that sound exciting to you. Perhaps the idea of working and then spending your afternoon exploring ancient ruins and enjoying exotic foods lights you up. The reality is that most digital nomads just want work, life, and play to all be intertwined. They don't want to have "real-life" and "vacation-life" as two separate entities. Being a digital nomad allows them to work and play wherever they go in the world.
What Will You Do With All Your Stuff?
If you rent out your home as a short-term rental, you could easily leave all the furniture, bedding, and many household items in it. You would then only need storage for personal items and items you don't want potentially damaged by renters. You could sell off some items, which could be used to help fund your trips, or you could give some of it away. It's important to plan out which direction works best for your situation.
What Will You Do For Travel and Health Insurance?
While your employer may offer a great insurance policy, most policies do not cover international health care. The great news is medical costs are far less in many nations than in the USA. Typical illnesses can easily be paid out of pocket in these areas. However, for catastrophic illnesses or injuries, a travel health insurance plan is a good option to have as well.  
Where Is The First Place You'll Go?
Perhaps the most important question for the budding digital nomad is to pick where to go first. Where do you dream of waking up each morning? Do you want a bustling city or a quiet hut on the beach? Choosing your first destination is a critical step to making your nomad dreams a reality. Research the location. Learn some phrases in the local language. Take time to investigate housing options. And then buy your tickets, pack your bags, and go.