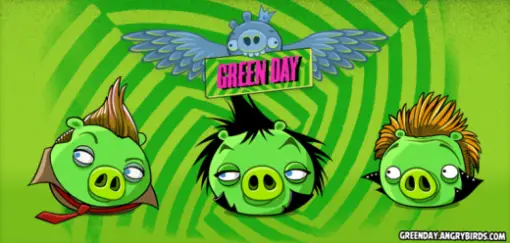 Just when I thought I would not be hearing anything more about
Angry Birds
! I have to admit that I fell for the Rovio game, hook, line, and sinker. I bought Angry Birds t-shirts for my brother. My sister and I had matching Angry Birds flip flops. I had an Angry Birds cake made for my brother's birthday last year. Oh, and yes, I have all the
games on the iPad
.
By the time Angry Birds hit Facebook, however, I was already rather tired of the game. I won't hesitate to say that the physics of the game in space was too much for me.
But Rovio is not one to rest on its laurels. They're going to milk their creation for what it's worth. Maybe more. And this time, they're reaching out to the masses who have a penchant for other symbols of their generation.
With Angry Birds Friends, Rovio has turned to punk band Greenday to gather more players – or bring them back – into the fold.
Greenday may not be the biggest name in the music scene today, but they definitely have more than a decent following. Yes, I was once a fan as well.
If you play Angry Birds Friends on Facebook, you'll get the chance to enjoy characters based on the band members and continue to smash stuff – pigs inclusive. Naturally, Greenday songs will also be included in the web game. The whole experience wouldn't be complete without those catchy tunes, would it?
To be honest, I am not sure I am convinced by Rovio's move. Sure, Angry Birds was tons of fun at the beginning. Maybe I've just outgrown the game. Maybe I'm just getting old. Even the fact that Greenday is the highlight is not making me look forward to the game!
If you're stoked about the possibility of playing Angry Birds Friends featuring Greenday, you will have to wait a little longer – till the end of fall. Now I won't kill it by referencing a Greenday song that has played in everyone's head at some point.
So, will you fall for this move and go back to those avians with anger management issues?
Via TheNextWeb