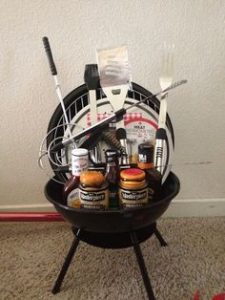 Some people might say that women are much easier to buy anniversary gifts for than those of the opposite sex.  
Women traditionally receive jewelry or flowers on this day of celebrating your union.  Many companies have built their entire business around anniversary gifts specifically for women.
Because of anniversary gift marketing tending to lean towards wives rather than husbands, many women find themselves stumped when trying to choose a gift for their spouse.
Try these anniversary gift ideas, and give your husband the equivalent of the joy you would feel receiving a big sparkling diamond.
Season Tickets
If your husband is a sports fan, consider gifting him season tickets for his favorite local sports team.  Not only does this gift him the pleasure of being able to watch his favorite team, but it also gives him the gift of camaraderie with his male social circle.  
Nothing says "bro time" like watching some sports in real time surrounded by the roar of the crowd.
Gutter Cleaning Service
Regardless of whether you are a progressive couple or not, gutter cleaning generally tends to be a male dominated household chore, because in most cases a man has a longer arm reach, and taller stature, making them the most qualified out of the two of you to get in there and do the job.
If your husband is like most, then chances are he absolutely loathes this chore.  Surprise him with the gift of not having to do it at all!
Consider hiring a professional gutter cleaning and roof repair service, and watch his face light up with "Yay! I don't have to do it!" glee.
A Barbeque
Nothing says I love you like the gift of throwing barbecued flesh on fire.  Many men enjoy being able to participate in the cooking duties.  Particularly helping with meat.
Perhaps this is an ancient caveman instinct that has remained in the heart of man.
If your husband is the impatient type, opt for a gas grill over old fashioned charcoal, which can be a timely process.  The bigger the better!
A Vacation
Whether you're a man, a woman, a child, or a grandpa, who doesn't love a vacation??  Taking a trip to escape the stress of day to day life is the ultimate gift package.
Consider a sentimental trip, perhaps to the first place you ever kissed, if it happens to be far from home.  Or perhaps there's somewhere you've always said you've you wanted to go together.  Surprise your love with the gift of adventure, and you can be sure that's better than even the shiniest diamond.
Something Lacy
Imagine giving the gift of something for yourself, that's actually for him!  Everyone wins!  Many couples have been together so long that they experience a decline in their intimacy.  
Anniversaries are a great opportunity to rekindle the passion and surprise your partner with a sizzling night he wasn't expecting.