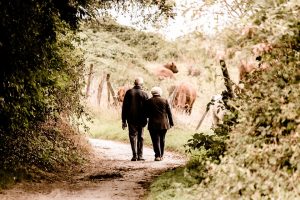 Sometimes you can lose a little bit of perspective when it comes to trying to show your love effectively to a partner. Maybe you don't know each other well enough to guess what he or she wants. Or maybe you have been together for so long that it seems like none of the options are quite right. If you're struggling with that question, here are four ways to show your love to partner.
You can buy a ring, you can go on a trip together, you can find a way to remove all distractions for a period, or you can write a love letter. These are just four examples, but they'll at least get you thinking of ways that you can show your love and appreciation.
Buy a Ring
Sometimes jewelry is the best way to go. And a ring particularly has a lot of significance. It is small but very visible. It doesn't have a lot of mass, but it has a lot of value. And the symbology behind it could be something very private between you and your partner. Especially when it comes time to buy an engagement ring, you want to make sure that you get the decision right.
Go On a Trip
Going on a couple's trip is another way to show your partner that you love them. It's all well and good to take your entire family on vacation. And there are always camping trips that you can go on with your buddies. But when you specifically just go on a journey with your partner, it means that you are prioritizing them in a way that warrants your full attention. Especially if you pick something that they want to do rather than what you want to do, you're really showcasing the fact that you appreciate them.
Remove All Distractions
Distractions are one of the great puzzles of life right now. There are so many things going on, and so many things to take your attention, that you sometimes lose sight of the most important matters. If you figure out a way to spend some time with your loved one removing all distractions, that goes a long way. A first initial step to do this would be to shut off your cell phone entirely. You'd be amazed how much of a difference that makes.
Write a Love Letter
It's a little bit of a lost art, but if you write a love letter to your partner, he or she will definitely appreciate it. Take some time, think about what you're going to say, and use your best penmanship. When you exit the realm of the text message or the email, suddenly your words will take on a new meaning, and will be cherished for what they are.