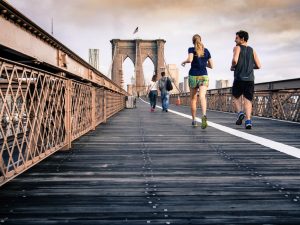 When it comes to losing weight there can be a lot of fad diets out there and conflicting information between resources. The facts can be so confusing that sometimes you aren't sure who to listen to. One minute you are positive that cutting out milk and bread from your diet is the next best thing, only to find that one day later you are drinking only lemon water and cayenne pepper because Beyonce said it helped her lose weight.
It can be exhausting trying to lose weight and keep it off. However, when it comes to effective methods to getting the weight off and keeping it off, there are a few old tricks that will always work. It all comes down to a matter of science. Here are the most effective ways of getting the weight off.
Stop Drinking Alcohol
When you drink alcohol heavily you are putting hundreds to thousands of extra calories in your body in a single day. Even though it might be easy and delicious going down it is certainly no walk in the park burning it off. More like a run in the park three times a week.
By cutting out alcohol from your diet you will consume much fewer calories and sugar and will instantly feel a change in your belt size. Try cutting alcohol out for one month and you will see a huge change in your weight. Not only will you consume fewer calories from the drinks you would otherwise be drinking, but you are less inclined to make poor nutrition choices when you are sober.
Count Calories
Counting calories is a simple science which works quite effectively. The bottom line is, the more calories that you burn off, the less you will keep in your body which will be stored as fat.
You will need to calculate exactly how many calories you need per day in order to lose your desired amount of weight per week. Try starting with 1 pound a week then if you start to see success, try making your weight loss program a little more intense.
Exercise Daily
Exercise is something that not only makes you more in shape and feel better in your own skin, but it will help you live a longer life. When you exercise, your body increases in muscle and decreases in fat, resulting in overall weight loss.
Try to get in at least 30 minutes a day of moderate to heavy exercise and you will find that your weight loss efforts will show results shortly after.
Less Carbs
If you eat a diet which is mostly made of meats, vegetables, and fresh fruits, you will consume fewer calories and fat. These foods are low in carbohydrates which are huge culprits for weight gain since they are stored as sugar and fat in the body.