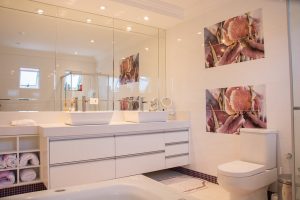 Aside from the common areas of your home, the bathrooms are likely one of the places where guest frequently visit. Despite this, many homeowners neglect to give their bathrooms the attention they deserve when it comes to style and design. Because of the amount of plumbing in a bathroom, it can be hard to know how to make some changes without having to call in a professional, which can be expensive. Luckily, there are some updates and upgrades you can make on your own to really improve this space. To show you how, here are three ways to update your bathroom without making a big investment.
Small Splashes Of Tile
Tile is one of the best materials to use in a bathroom. However, depending on the type of tile you choose and the amount of tile you plan to use, this beautiful feature can also get pretty expensive. So to get the look and feel of tile without the steep price tag, Stan Williams, a contributor to ThisOldHouse.com, recommends using tile in smaller areas as a way to accent your other styles throughout the space. By choosing to tile something like the countertop rather than the entire floor or shower area, you can likely complete the project on your own and save money on material costs as well.
A Bright Idea
Lighting is one area of the bathroom that often gets overlooked. However, this is arguably one of the most important aspects of this space, especially if you or your family members choose to get ready in the bathroom. Not only should you have good lighting to make sure you can see yourself well when getting ready for your day, but you should also install some mood lighting for when you're trying to relax and unwind. HGTV.com shares that by simply changing the lighting from standard domes or other fixtures to something with more of a softer, dreamier shape, you can change the entire mood of the space without having to spend money on making other big adjustments.
Premium Paint
One of the easiest and most obvious ways to update the look of your bathroom is to add a fresh coat of paint. With a little patience and attention to detail, you can do this yourself in just an afternoon. However, because of the amount of water found in a bathroom, you might want to be careful with what paint you choose. Heather Levin, a contributor to MoneyCrashers.com, shares that higher quality paints with satin finishes will work best in a bathroom because of the moisture and humidity found there. Also, you may want to get a paint that fights against the buildup of mold to use on the ceiling and higher up on the walls around the shower.
If you're wanting to make some changes in your bathroom, use the tips mentioned above to do so without spending a big chunk of change.