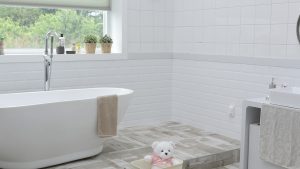 If you've noticed that your appliances that use water often have stains, your hair and skin are particularly dry, and your clothes appear to be fading in color and quality, your home may have hard water. To keep everything in and around your home running in prime condition, you will likely want to take some actions that will help remove the amount of hard water you have and its effects on your belongings. So to help minimize this problem, here are three tips for removing hard water and hard water stains.
Install A Water Softener
To get rid of the source of the problem, you may want to consider installing a water softener in your home. According to Janet Miller, a contributor to the Huffington Post, a water softener works by taking out extra calcium from your water and replacing it with sodium or potassium ions. This process makes your water softer, which can help eliminate all the problems that previously came along with having hard water. Water softeners are relatively easy to use, but you may want to call in a professional to help get the system set up and prepared for you to start using it.
Try A Homemade Solution
If you're merely looking for a way to get rid of the stains that are caused by hard water, there are quite a few homemade solutions you can create that will make it easier to scrub these stains away. According to Sarah Littleton, a contributor to BobVila.com, one of the best solutions is to mix equal parts water and vinegar in a spray bottle and spray the solution all over the area you're trying to clean. If you allow this solution to soak in for a few minutes and then continue spraying as you scrub, you should be able to get the area pretty clean. If you're still having problems, add some baking soda to the mixture until it's a paste consistency. Apply that paste and then scrub that off to clear away all the hard water buildup or limescale.
Know What Your Cleaner Should Be Used For
In addition to homemade cleaning solutions, you can also purchase more heavy-duty cleaners from your local hardware store. However, FamilyHandyman.com warns that you should always know what your chosen cleaner should be used for before you start working with it. There are about five different types of cleaners that should be used for different situations. According to the Family Handyman, alkaline cleaners are going to be the ones that work best for hard water stains, so try to make sure you're using one of these types of cleaners if you get one from the store.
If you're tired of your hard water stains and other problems, use the tips mentioned above to help you get rid of them.